F. Scott Fitzgerald (1896–1940)
From
The Great Gatsby and Related Stories
Interesting Links
Video: "F. Scott Fitzgerald in St. Paul, Minnesota" (Dave Page, CSPAN)

"F. Scott Fitzgerald: a novelist who was Catholic, but not a 'Catholic novelist'" (David Leigh, America Magazine)

Previous Story of the Week selections
• "Benediction," F. Scott Fitzgerald
• "The Egg," Sherwood Anderson
• "The Doctor and the Doctor's Wife," Ernest Hemingway
• "The Train," Flannery O'Connor

Buy the book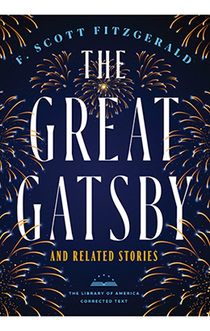 The Great Gatsby and Related Stories
Paperback | 387 pages
List price: $15.95
Web store price: $11.95
"From his window, as far as he could see, the Dakota wheat thronged the valley of the Red River. The wheat was terrible to look upon. . . ." Above: Wheat-threshing scene in the Red River Valley, c. 1900–1910. The hand-colored image for this postcard was also used in advertising for Washburn-Crosby Flour Mills in Minneapolis, which produced Gold Medal Flour. (eBay)
In 1919, after leaving the Army, F. Scott Fitzgerald began keeping a detailed business ledger, listing all his publications and the money he earned through his writing. The last section of this journal was a month-by-month chronicle of his life, told in the third person, looking back to his birth ("1896 Sept 24th at 3-30 P.M. a son Francis Scott Key Fitzgerald to Edward and Mary Fitzgerald"), and he kept it up to date through the summer of 1935. Fitzgerald's childhood memories are often half-joking embellishments, such as the day he went with his family to Atlantic City, "where some Freudean complex refused to let him display his feet, so he refused to swim, concealing the real reason. They thought he feared the water. In reality he craved it." More relevant to our current selection was part of the entry for September 1907: "He went to Confession about this time and lied by saying in a shocked voice to the priest 'Oh
no
, I
never
tell a lie.'" From this memory sprang the story "Absolution," written while he was struggling to work on the novel that would become
The Great Gatsby
.
Fitzgerald came up with the idea for his third novel in the spring of 1922, when he and his wife, Zelda, were still living in Minnesota. "Its locale will be the middle west and New York of 1885 I think," he wrote to Maxwell Perkins, his editor at Scribner's. "It will concern less superlative beauties than I run to usually + will be centered on a smaller period of time. It will have a catholic element." He worked on the novel in earnest the following year, but in April 1924 he updated Perkins: "Much of what I wrote last summer was good but it was so interrupted that it was ragged + in approaching it from a new angle I've had to discard a lot of it—in one case 18,000 words (part of which will appear in the
Mercury
as a short story)." A novel originally set forty years earlier had become something altogether different, and Fitzgerald sent an episode from the discarded material to H. L. Mencken, who published it in
The American Mercury
. Two months later, Fitzgerald responded to a letter from Perkins, "I'm glad you liked 'Absolution.' As you know it was to have been the prologue of the novel but it interfered with the neatness of the plan."
Ten years later, Fitzgerald received a copy of a letter sent to
Hound & Horn
by the librarian John Jamieson, who objected to an essay in the literary quarterly positing that Flaubert should be considered Fitzgerald's "ultimate master." Jamieson argued that the more obvious influence was Thackeray—which impressed Fitzgerald, who had read Thackeray's novels "over and over by the time I was sixteen" and had even compared
Gatsby
to
Henry Esmond
and
Vanity Fair
in a letter to another critic. Fitzgerald sent a short letter to Jamieson and, in subsequent correspondence, wrote:
I agree with you entirely, as goes without saying, in your analysis of Gatsby. He was perhaps created on the image of some forgotten farm type of Minnesota that I have known and forgotten, and associated at the same moment with some sense of romance. It might interest you to know that a story of mine, called 'Absolution,' in my book All the Sad Young Men was intended to be a picture of his early life, but that I cut it because I preferred to preserve a sense of mystery.
This later letter has fueled the belief that "Absolution" is the "deleted prologue" of
The Great Gatsby
. Arthur Mizener, in the first full-length biography of Fitzgerald, claimed bluntly that it "was written, not as a short story, but as a prologue for
Gatsby
," and the inference has reappeared frequently over the decades. During the 1970s, a professor suggested in the pages of
College Literature
that teachers could use the story to reignite students' interest in the novel by presenting Rudolph Miller, the boy in the "prologue," as "undoubtedly the pre-adolescent James Gatz." And a decade ago,
Slate
resurrected the story, celebrating it as "
The Forgotten Childhood of Jay Gatsby
."
Many scholars downplay both the importance of "Absolution" in the development of Gatsby's character and Fitzgerald's later claim that the story was "cut" in the final novel. "This surely cannot have been literally the case," protested the novelist Thomas Flanagan in
The New York Review of Books
, "there seems little connection between Jimmy Gatz . . . and Rudolph Miller." Similarly, the late Matthew J. Bruccoli, a foremost expert on all things Fitzgerald, wrote in his 1981 biography:
It is not certain that Rudolph Miller, the boy whose dreams of metropolitan glamour are reinforced by his encounter with the deranged priest, is Jimmy Gatz. As Fitzgerald told Perkins, "Absolution" was salvaged from a discarded version before he approached the novel from "a new angle"—by which he meant a new plot. While Miller and Gatz share a romantic disposition, there is no clear evidence that they are the same characterization from the same novel. Fitzgerald's 1922 plan was that his third novel would have a "catholic element"—which is entirely absent in The Great Gatsby, though central to "Absolution." Indeed, there is no clue to Gatsby's religious background beyond the fact that his funeral is conducted by a Lutheran minister. The safest way to regard Rudolph Miller is as a preliminary treatment of the figure who developed into Jay Gatsby; they share the conviction that "There was something ineffably gorgeous somewhere that had nothing to do with God."
It is perhaps more accurate, then, to think of "Absolution" not as the chapter that was omitted from the finished novel but as an episode from a novel that was never finished.
Notes: The slang phrase twenty-three Skidoo, popular in the early decades of the twentieth century, means "Beat it!" or "Scram!" James J. Hill was a Canadian American railroad executive and financier whose base of operations was in St. Paul, Minnesota, Fitzgerald's hometown. A self-made man, Hill was a hero to many midwestern boys. American author Horatio Alger, Jr., wrote Ragged Dick (1868) and numerous other rags-to-riches stories extolling honesty, hard work, and perseverance. One of Rudolph's pennants is from Hamline University, a small Methodist institution in St. Paul.

Dómini, non sum dignus, ut intres sub tectum meum: sed tantum dic verbo, et sanábitur ánima mea. . . . is from the Ordinary of the Roman Catholic Mass: "Lord, I am not worthy that Thou shouldst come under my roof; but only say the word, and my soul will be healed." Corpus Dómini nostri Jesu Christi custódiat ánimam meam in vitam ætérnam: "May the Body of our Lord Jesus Christ preserve my soul unto life everlasting." Sagitta Volante in Die: "The arrow flying in the day" (from Psalms 90:6, Douay–Rheims version).

The German cuirassiers at Sedan were Prussian cavalry, who wore breastplates and plumed or spiked helmets, at the Battle of Sedan on September 1–2, 1870, which resulted in the capture of Napoleon III and the effective defeat of the French.
* * *
T
here was once a priest with cold, watery eyes, who, in the still of the night, wept cold tears. . . .
If you don't see the full selection below,

click here

(PDF) or

click here

(Google Docs) to read it—free!
This selection may be photocopied and distributed for classroom or educational use.